Friday, June 14th, 2013 at 2:30 am
If you want to be one of the best fisherman on the lake. You must learn to fish the weed line. Most people do not know how. Whether you are fishing panfish , walleye, bass, or northern. It is truly amazing. Lets take walleyes. The main sought after fish here in Minnesota.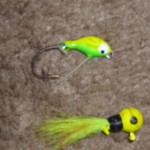 Pictured left Great Weed Jigs (top the Northland Weed Weasel , bottom standard 1/8 oz jig)
Most walleye fisherman are fishing deep water structure. This means sunken islands , rock piles, and bars. This time of year Mid June the weed lines are grown out to ten to 12 feet of depth. May lakes some of my favorite are choked with milfoil which means 80 percent of the lakes depths of under 12 feet are completely choked to the surface with weeds. Makes it hard  to fish.