Monday, May 6th, 2013 at 4:23 am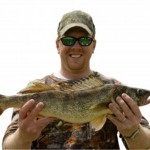 For the many of you that come up to Minnesota for the fishing opener next weekend you would be advised to call the area you are going for conditions. It has been one of the coldest  April and early May that I can remember. There is ice on most of the lakes from about Millacs lake North.
Fisherman are still ice fishing on Millacs  Lake as of today May 5. Big Sandy lake still reports 20 inches of ice. A few days ago central Minnesota where I live received 6 to 8 inches of snow. There was still 3 inches of snow on the ground yesterday although today it has almost all melted.