Fishing The Weed Line / The Best Fishing Tip You May Ever Hear
Friday, June 14th, 2013 at 2:30 am
If you want to be one of the best fisherman on the lake. You must learn to fish the weed line. Most people do not know how. Whether you are fishing panfish , walleye, bass, or northern. It is truly amazing. Lets take walleyes. The main sought after fish here in Minnesota.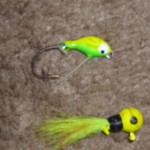 Pictured left Great Weed Jigs (top the Northland Weed Weasel , bottom standard 1/8 oz jig)
Most walleye fisherman are fishing deep water structure. This means sunken islands , rock piles, and bars. This time of year Mid June the weed lines are grown out to ten to 12 feet of depth. May lakes some of my favorite are choked with milfoil which means 80 percent of the lakes depths of under 12 feet are completely choked to the surface with weeds. Makes it hard  to fish.
What you want to do is fish the weed edge. Imagine the weedline being kind of a stair step drop from (choked to the top of the water at 9 feet) down to little or no weeds at 13-14 feet. Depending how quick the water drops will define a steep dropping stair or a gradual dropping stair step of weeds.
Fishing equipment medium weight rod open face spinning with a 4-6 pound line. Bait use a small green or yellow one eight once jig to ¼ oz (most times too heavy). Tip the jig with a small minnow or use gulp alive minnow bait. It is important your jig is small . You do not want the jig to sink to deep in the weeds. You want to pull your jig free when you feel a snag. The term is snap the jig free.  
An excellent jig is a northland weed weasel 1/8 ounce. It has a weed guard. Start fishing the weed line by positioning your boat in deeper water. You cast the light jig to the weed edge and work by feel. You will feel the weed edge. You start to get a weed snag pull the jig free let it sink down the weed stair step.  Once you get the hang of this you will be amazed at the fish you will catch .
Walleye, bass, northern, crappie. This is where the majority of the lakes fish are at is the weed edge. While most walleye fisherman are pounding the classic spots. You are going to have the weed edge basically to yourself.
Once you perfect this weed fishing technique you will be out fishing 90 percent of the other fisherman on most lakes. Give this fishing technique a try, be patient.  This may be the best fishing tip you have ever received. I know it has been for me!  Another tip use a the orange and yellow marker buoys marking the edge of a section of weeds.
Filed under: How To Catch Walleye More Deadly Methods
Like this post? Subscribe to my RSS feed and get loads more!