Sunday, June 23rd, 2013 at 3:27 am
Last Update December 15,  2015
My very favorite  fishing subject. Summer  weed line fishing for panfish. You can successfully have very good to excellent consistent fishing throughout the summer. I do not see many (if any) fishermen using this technique. Which is all the better!!!!!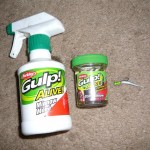 (Left , A deadly deadly method that works all season long. In the middle The Gulp Alive One Inch minnow, On the right a green 1/32 ounce jig.  On the left gulp alive spray. I do not receive compensation for the Gulp product . I am just a reviewer of the product.)
The weed line typically in the summer grows to about 10-12 feet in depth around most lakes in the summer. This renders most of the shallows unfishable, chocked with weeds.  Also what the summer weed growth does is push a big concentration of fish (both predator and baitfish)  to the edge of that weed line.