How To Cook Walleye In The Nuwave Oven
Sunday, February 17th, 2013 at 3:44 am
I love my Nuwave oven for cooking walleye. It cooks very fast because of the convection heating.
Below beutifully cooked golden brown Walleye in Nuwave oven in 18 minutes.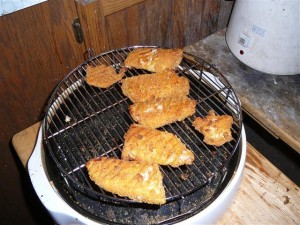 It is important to get the best tasting fish to prepare your fish properly. Fillet your walleye and skin your fish. Wash your walleye in water then put on a dry paper towel and pat dry.
Dip your walleye filets before you bread it. A product that is excellent you can find in your grocers refrigerator case is called egg beaters (which are egg whites). Pour some egg beaters in a bowl.
The next step is to dip your fish filet into the egg beaters using a fork put it in your breading and push the fish down into the breading to get more of the breading to stick to the filet. Then put the filet on the Nuwave high cooking rack. First spray your Nuwave cooking rack with a no stick cooking spray.
Set The nuwave oven timer to 9 minutes. When the walleye fillets are done on one side. Take a spatula and carefully flip the fillets to the other side. Set the nuwave oven cook time to 9 minutes. That is it. Take the walleye fillets off the cooking rack with a spatula and wait 5 minutes before serving. The fillets will be cooking that 5 minutes.
You have some great tasting walleyes. Add a little lemon and you have a meal fit for a king. A great breading for walleye is call Shore Lunch oven style. But any breading will work. The above is a great fish recipe
There you have it great cooked and tasting walleyes in two thirds the time it would take you to oven cook. G0od Eatin! if you food this post useful you might want to check out how to cook fish on this website.
How To Catch Fish Easy Home Page
Filed under: Fish Recipes
Like this post? Subscribe to my RSS feed and get loads more!