Condition Update For The Minnesota Opener May 5 2013
Monday, May 6th, 2013 at 4:23 am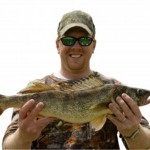 For the many of you that come up to Minnesota for the fishing opener next weekend you would be advised to call the area you are going for conditions. It has been one of the coldest  April and early May that I can remember. There is ice on most of the lakes from about Millacs lake North.
Fisherman are still ice fishing on Millacs  Lake as of today May 5. Big Sandy lake still reports 20 inches of ice. A few days ago central Minnesota where I live received 6 to 8 inches of snow. There was still 3 inches of snow on the ground yesterday although today it has almost all melted.
Some of Minnesota's better lake choices will be from an east west line going through St Cloud Mn. or from the Twin Cities south. The walleye will likely be in the spawning period. Water temperatures are still very cold (ice cold) being in the upper 30 F. For the Minnesota opener look for smaller lakes that will warm quicker.
You might consider western Minnesota Big stone Lake or Traverse Lake. The Mankato Minnesota area has several good walleye lakes that are small and would be good choices. The Mississippi river near Red Wing has been slow because of the cold weather. But with the warming trend expected this week (in the low 70's for highs) fishing near Red Wing should pick up.
A good tip when fishing this Minnesota opener would be to fish very slow. Even with the warming trend water temperatures are very cold and the angler needs to adjust to these conditions.
Good Fishing!
How To Catch Fish Easy Home Page
Filed under: Great Fishing Destinations
Like this post? Subscribe to my RSS feed and get loads more!