Baked Salmon In Nuwave Oven / Fish Recipes
Tuesday, August 28th, 2012 at 2:07 am
I love my Nuwave oven for cooking salmon. It cooks very fast because of the convection heating. Take salmon you buy at the store which is frozen and marinated in a plastic air tight bag. Put the salmon on the cooking rack skin side down.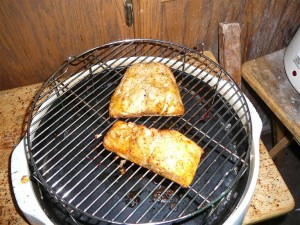 Left.  The cooked result.
Set the Nuwave oven timer to cook 7 minutes per side.
That's it, take the salmon off the oven rack and serve. Add a little lemon and serve.
If you are cooking plain salmon (not marinated) .  My favorite is to sprinkle a little lemon
pepper salt on the fish before cooking. Lemon pepper seasoning is hard to beat
for preparation of salmon.
Serve and enjoy. Good Eating!
For more info on cooking fish see link how to cook fish.
Filed under: Fish Recipes
Like this post? Subscribe to my RSS feed and get loads more!