The Orginal Floating Rapala / The Forgotten Lure For Bass and Walleye / How To Catch Bass
Wednesday, August 15th, 2012 at 2:10 am
How To Catch Bass using the orginal floating Rapala. The crankbait lure that started it all for Rapala was the floater made of balsa wood. Rapala since the development of the floater back in to 1960's has developed quite an assortment of all kinds of great specialty crankbaits including shad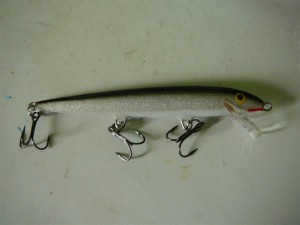 raps, deep diving shad raps, suspending shad raps, rattling raps, DT6 8 10 12 etc, clackin rap, minnow rap, and others. First I will say that confidence in the lure you are fishing is of utmost importance to fishing success. For crankbaits I prefer Rapala because I have had wonderful success with their brand.  You may prefer another brand (Rapala is not the only manufacturer).
The orginal floating rapala is a crankbait lure that floats and has a small lip (which means it is a shallow runner and will run in depth from the surface to about 6 feet deep). The orginal floating rapala is a great surface lure for largemouth and smallmouth bass. It has a very natural minnow enticing action to it. A slow wobble I would decribe it. From a boat or the shore fish for bass in the shallows in the spring thru the fall. From a boat systematically work the shallows (where lakes are not too choked with weeds).
Fish it over the tops of weed where weeds are a foot to 3 feet below the surface The orginal floating rapala is great bait to three way rig with a weight and troll near the bottom at any depth you would like. It works great for trolling for walleyes. Many walleyes have been taken with this method. In the fall fish the orginal floating rapala in a lake or river areas that have feeder streams coming in. Cast from shore out or from a boat into shore. Fish the orginal floating Rapala in channels between lakes.
This is a night method in the fall and can produce some big walleye. In the future I will try and produce a post on using a 3 way rig and night fall fishing for walleye.  As an option try the orginal floating rapala. It is probably a lure the fish have not seen in a while. Giving the fish a little different presentation can make a difference in your fishing success.  This tip will help you catch more fish.
Filed under: How To Catch Bass More Deadly Methods
Like this post? Subscribe to my RSS feed and get loads more!