For Shore Fisherman / How To Catch Crappie In The Spring
Wednesday, July 18th, 2012 at 2:47 am
How to catch fish particulary crappies in the spring from shore. For many years I fished from shore , not owning a boat at the time. In how to catch crappies in the spring from shore first item of business is to find a good lake that has good numbers of crappies. A bait shop is usually a good source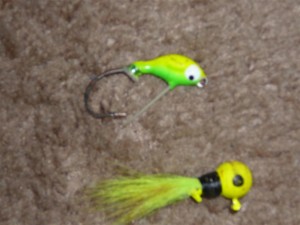 for the shore fisherman to find a good lake and spots to fish. Alright you now have a spot or several spots to start fishing. Here in Minnesota (land of 10,000 lakes) there are many spots to fish from shore. Channels betweem lakes are great spots to fish. Lake Minnetonka a prime example. What to use when to go to fish crappies to have the best chance for success. The 1/32 oz or 1/64 oz jig. Tip the jig with a minnow or one of the super baits such as gulp alive or Berkley power baits. Again use a bobber and fish at a depth of 2 to 3 feet. Crappies like to feed up, so it is better to set your bait shallower rather then deeper. From shore try to taget cover which could be down trees , stumps, reeds, edges of weeds docks etc. You can increase your odds by fishing later or earlier in the day. Especially in the spring the last hour of day is usually the best time to shorefish and catch crappies. How to catch crappie for the shore fisherman remain mobile. If one spot does not pan out shift to a different lake or shift to a different spot on the lake. Here is a tip, use hip waders to help you get away from the crowd. Another tool the shore fisherman can use is a fly rod to catch crappies others will not catch on a jig and minnow. See under fly fishing methods how to use a flyrod to catch crappies.
Filed under: How To Catch Crappie More Deadly Methods
Like this post? Subscribe to my RSS feed and get loads more!