How To Fly Fish For Panfish / How To Catch Fish
Wednesday, July 4th, 2012 at 3:45 am
Fly fishing for panfish is perfect for the beginning fly fisherman. Perfect because panfish are found in abundant numbers most everywhere in the lower 48. You can find panfish usually not far from home in ponds lakes or even in your city park. No boat is usually necessary but can be of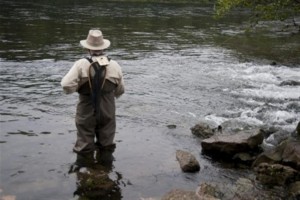 help. The sunfish usually an eager biter during the summer period. The sunfish is a good practice fish for the beginner fly fisherman that will go for trout later.  When panfish bite they will take almost any fly presentation has been my experience. In the spring period using a wet fly (a sinking fly) was may times for me the ticket for taking sunfish and crappies when the standard jig would not produce. Where to go if you are a shore fisherman. Look to the parks in your area that have lakes. The use of hip waders can give you the edge where shoreline is brushy and hard to navigate. What to fish for panfish? Look for lily pads, weeds, fishing the edges of this cover and the open spots. Fish any type of cover which can include fallen trees , docks, pontoon boats. Do not stay in any one spot to long if you do not get any strikes. Keep moving to find the active fish. What to use for bait? I prefer a wet or sinKing fly. The rabbit hare nymph is my favorite. When fishing the wet fly after you cast it out let it sink and retrieve it in slowly. Watch the leader for any movement or if the line stops set the hook. Many times you get a lot of light biters. What to use for a floating lure? My prefernce is for a lure called a popper which is a cork head and a hook with feathers. The popper is very exciting way to fish for panfish. During the summer period when the weather has been stable is your best fishing for panfish on surface lures. Also calm conditions with no wind is ideal causing the surface of the lake or pond you are fishing to be flat. Use your flyrod to help you catch more fish.
Filed under: How To Fly Fish Methods
Like this post? Subscribe to my RSS feed and get loads more!