A Fishing/Weather Update From Central Minnesota
Tuesday, April 30th, 2013 at 3:28 am
Things are looking good  as far as the weather goes here in central Minnesota. Finally the weather seems to be breaking to spring from winter. Just last week we had an 8 inch snow fall and temperatures as low as the mid teens Fahrenheit . It has been a very cold spring.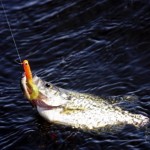 In Minnesota we are a good 3 weeks late. Today April 29 with the temperature roaring to a high of the low 70's the ice should be starting to go out of some of the small to medium size lakes. I can report that around my area the small ponds just lost their ice a couple days ago.  Yes and  a few fisherman have been spotted fishing from shore! Reports have been as expected slow.
With the ice just off the small ponds the water temperatures are still in the 30's. It will take just a few days of weather like this and the panfish bite should be on! Happy days will be here again. Fishing season! Seriously it is a great time of year after a long cold winter to see those lakes open up free of ice and get out in the boat or fish from shore.
Here in Minnesota we are blessed with 10,000 lakes and have some excellent fishing with a wide variety of choices. Right now panfish is about all that is open until about mid May when the walleye fishing season opens. When heading out crappie fishing this time of year I like to use a yellow or green 1/64 ounce or 1/32 ounce jig tipped with a gulp alive one inch minnow. A bobber set a couple feet above the jig. It is an amazing setup . Soon open water fishing will begin !

How To Catch Fish Easy Home Page
Filed under: How To Catch Crappie More Deadly Methods
Like this post? Subscribe to my RSS feed and get loads more!