Sunday, August 12th, 2012 at 3:01 pm
Fish recipes.
The big fish sandwich. A  favorite of mine. Simply and easy to make. Take a 3-4 oz fish filet. See main page tab at top how to cook fish for cooking methods.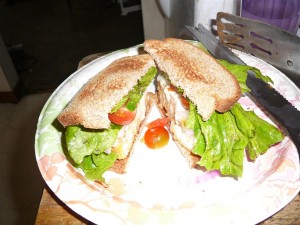 Ingredients:
1) Whole wheat bread . 2) 3-4 oz of fish (walleye is very good ) 3) One thin  slice of red onion 4) A leaf of romaine lettuce 5) Sliced tomato 6) Swiss cheese slice (optional). 7) Mayo non-fat.
Toast your bread. Take 3-4 oz fish place on one piece of toast. Place swiss cheese on the fish. Take a thin slice of red onion. Punch out the center of the red onion (which is strong tasting). Place the red onion slice on the cheese. Then place the sliced tomato over slice of cheese with the lettuce leaf.  On the other piece of toast put some non-fat mayo or miracle whip free. You have one great tasting , nutritious , low fat/ low calorie fish sandwich!